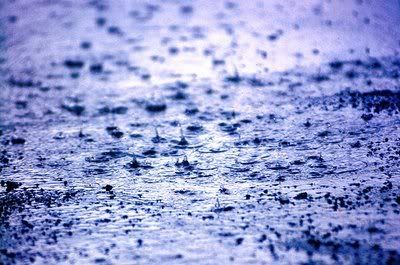 For several hours this afternoon I had been finishing my damn group assignment (read: procrastinating) and looking out the window telling myself it's going to rain any minute now. Three hours later at 5pm, only small dribbles of rain, but nothing that would hurt me.
So I decided to throw on my running clothes and head out. Am running down the road to little spits of rain thinking; this isn't too bad, I'll survive. I get to an intersection and see my mum driving home from work, she winds down the window and asks; "do you want a ride sweetie? I think it's going to get harder". I tell her; "no I'll be fine, I'll keep going".
I run a further five or ten metres down the road and then suddenly the dribble rain turns to a pouring rain and the wind gets harder and faster. Damnit. I keep running for a further ten metres or so thinking it will die off in a bit. No such luck.
By this stage I'm soaked through, my "rain jacket" is seriously not doing it's job as I can feel my soaked t-shirt sticking to me underneath it.
This sucks.
So I turn around and start running home, it gets worse. I'm running but my hands, arms and legs are frozen from the cold wind and rain hitting them.
I get in the door, looking like I've just jumped fully-clothed into a swimming pool. My sister grins at me (that cheeky grin sister's have when they really just want to laugh at your misfortunes) and asks; "nice run?". I'm standing in the front entrance way dripping. Of course I have to reply with something just as sarcastic; "yes, was delightful, as you can see I worked up quite a sweat."
So at least I tried to go for a run, even though it only lasted 20 minutes. But at least that cancels out the 20 almonds I ate for afternoon tea.